The Screaming Engine is a Renault V10 in the back of a Williams FW17B, driven by Jacques Villeneuve at one of his first tests for Williams at Imola in 1995.

I love Motor Racing. I've been lucky to be at some great races and to witness first hand the beauty of human and machine pushing the limit of the physics barrier. I first became hooked when I saw the film Grand Prix in a theatre when I was a boy. No one will ever make a better F1 movie!

My father was addicted to cars. He collected MG's, Healey's, Triumph's, Alfa's, BMW's, Austin Morris's, a lone Lotus and countless other odd vehicles like an Austin Gypsy and a Citroen Maserati.
My first car was a Triumph Vitesse. It was the perfect car to have on the slippery Canadian winter roads. I got great satisfaction from driving between parked cars on 6 inches of snow with the front wheels on full lock steering with the throttle!
It wasn't quite F1 but it gave me hope!

Probably the most exciting cars were the Can-Am cars I saw with my Dad and brothers at Mosport from 1969 - 74. Especially awesome were Mark Donohue in his Penske Turbo Porsche and the second generation UOP Shadow's.
Can Am cars were very close to being unlimited race cars at that time and though the competition wasn't always good the sheer speed and sound of them was totally frightening and they were breath takingly fast!

The pinnacle in racing for me is Formula One. From camping out at the 1971 Canadian Grand Prix or watching the rain soaked 1997 Monaco GP in a nearby Hotel room I've rarely lost my lust for it. The one exception being after Gilles Villeneuve's death.
I managed to walk back to the pits with Gilles after his Ferarri's Drive Shaft broke on the long Andretti straight at his first Canadian Grand Prix at Mosport. We'd seen him pulverise the opposition in the Formula Atlantic series and knew how much pleasure he would give us when he got Niki Lauda's drive at Ferrari. He only let us down once.

At a couple of races I was treated to a ride around the circuit before the race.
At the 1992 FIA 3000 race at Brands Hatch in Kent I was a passenger with Simon and Jasmin Lebon while Jackie Stewart drove us around the circuit pointing out the braking and shifting points and the landmarks of fallen pilots from the past.
We were the last passengers he had before the main race and the crowds were cheering Jackie's car control while we were totally captivated by his narration, presented without hesitation, while flying round the circuit in a very quick Ford Cosworth saloon!

Later in the Summer we had a ride around Silverstone with Jackie's son Paul Stewart presenting the experience.
Even though Yasmin was pregnant, she kept yelling at Paul to go faster!
If anyone's counting, Jackie pushed the pedals harder than Paul did...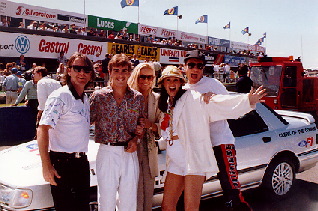 I think I was the only person on the Silverstone grid before the Grand Prix with a drink in my hand!
My favourite race was the Monaco GP in 1992.
I hung out with Damon Hill, David Brabham, Jack Brabham, Betty Hill, Derek Bell and a whole bunch of great people on James Hunt's boat Operetta.
At my suggestion, we had a Sunday lunch before the Grand Prix where we invited the sons of famous fathers! Jacques Villeneuve was in the F3 race and their paddock was miles away but I walked over in my Cowboy boots to invite him but he had to go to Japan on Sunday and declined.
We spent most of lunch trying to talk Marlboro and Olympus into sponsing Damon and David and hearing how hard it is for UK drivers to get into F1. Little did we know what great futures they both have...
Damon was driving (striving?) for Brabham that year and also testing the Williams active suspension car. He broke down in the race.

A real highlight of the day was the chance meeting of David and Jack Brabham. They were'nt talking to each other much in those days...
My highlight of the race was being allowed to stand in the tunnel and watch the cars come straight at us at near 180 mph! Nothing in my life has scared me as much as that did...
Nigel Mansell had a frightening moment in the tunnel when his car moved 5 feet sideways as he hit the bump near the exit. He thought he had a flat tyre and went into the pits for a checkup which cost him the race to Senna who was far behind in 2nd place. The last few laps were incredible as Mansell with a faster car, attempted to repass Senna in his slow on that day McLaren. I was at the Bus Stop for the last 5 laps watching the two of them put on a display of car control that may not have been seen since. They even touched a couple of times as they made their way through to the Swimming Pool complex.
Monaco has been descibed as like "riding a motorcycle in your living room". Mansell had no chance of passing...
About 2 weeks before the Monaco GP I was at the Brands Hatch circuit south of London for a celebrity fun day with Simon Lebon.
We were put into teams with a Grand Prix driver as captain. Damon Hill was our team leader in the yellow team. We drove mini bikes, go-carts,4x4s and cars.
My claim to fame on that day was beating everyone, including the F1 guys, over a 1/4 mile slalom course in a Fiat Uno! My practise in the Vitesse had finally paid off!
I will never let Damon forget that...
I've always wanted to race but the closest I've come is the 1 day course at Donington...
Check the News pages for other stories...
---
©Bayview Avenue Records Inc.