January 25,1999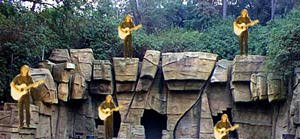 Working on the Turning Me Inside Out Video
My Times


One Moment in Time is in stores across Canada. Turning Me Inside Out - the new single.
---


Turning Me Inside Out has been released to Radio in Canada.
It is the second single from my album.
The not for sale single has the album version and a slightly edited single version on the CD.
The musicians on the track are Steve Ferrone,Drums - Walter Turbitt,Guitar,Flute - Richard Martinez,Bongos and me the other stuff. You can listen to it here.

The 1st single, State of Mind is still on the MP3 Pop chart and the video is playing on CMT in Canada.
---


Last week was Martin Luther King Jr. Day.
For the past 4 years I have played in the Holiday Celebration Golf Tournament whose proceeds benefit Sickle Cell Reasearch. Last year I came 2nd in the Calloway division and this year I won! I also got a Putter of the Year trophy for having the least putts on the very slippery greens of Alhambra Municipal Golf Course in Los Angeles.

It couldn't have made me feel better knowing my pleasure was helping solve the widespread Sickle Cell disease that affects 1 in 400 African Americans.
A big thanks to Rose Woods for making the effort to put this worthwhile tournament together.
---
"Democracy is the greatest form of government to my mind that man has ever conceived, but the weakness is that we have never touched it. Isn't it true that we have often taken necessities from the masses to give luxuries to the classes? Isn't it true that we have often in our democracy trampled over individuals and races with the iron feet of oppression? Isn't it true that through our Western powers we have perpetuated colonialism and imperialism?."

Martin Luther King Jr. - November 17,1957 - Loving Your Enemies - Read
---