March 21st, 2017 § Comments Off on Hold On § permalink
What a great performance by Alan Frew and band of Hold on!
From 1995, before the album was released!

January 7th, 2017 § Comments Off on Wrapped Around Your Finger – Dan Hill § permalink
This was Mick Fleetwood's favourite song, of mine!
While we were producing Dan Hill's, Seduces Me, for Celine Dion, at the end of 1995, we recorded my song, Wrapped Around Your Finger, for Dan's solo album; I'm Doing Fine.
We recorded the basics for the song, at my Treehouse studio, in the Dell, Hollywood. I played the keys, acoustic guitar, and bass, then we overdubbed Steve Ferrone's drums at Record Plant with Steve Churchyard, and Michael Thompson's guitars, at his Cocoa Butt Studio, in the Baldwin Hills.
Wrapped was top 10 on radio, before it, and the album, were pulled from distribution, after 8 weeks! Oh well…
October 17th, 2016 § Comments Off on To Sir Dee Long § permalink
On the occasion of the celebration of the birthday of my long time friend and partner; a toast to Dee's compassion, empathy, and genius!
Happy Birthday Sir Dee Long!
June 22nd, 2016 § Comments Off on Ken Basman, 1958-2016 § permalink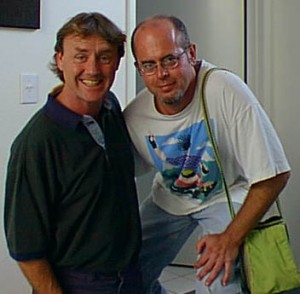 I can't believe we've lost Ken Basman! God has no mercy. The world is emptier tonight! Three cheers for the life of Ken!
Of all the people I have ever known in my own life, Ken was the first true pillar of humanity, of common sense, of fair play, a believer in social justice, and a lighthouse in the fog of teenage war! The apple does not fall far from the tree! He turned me on to as many books as he did to albums. We longed for a just world. We believed in love.
The son of Muni was a great great man from the beginning. We connected with music, style, and culture! I loved spending all day at the Basman home on Denino Ave., in Hogs Hollow, learning what cool was all about! The house was full of history, art, and philosophy, which were all as important as the sex and drugs and rock and roll that Ken and I were enjoying! And, who can ever look at a Cadillac Eldorado convertible, and not think of Muni? What an awesome man! Ken made Muni proud. I know he did! I was there!
Ken never took on anything without completing it, showing all of us what hard work, and what we musicians call wood-shedding, can do! Ken practiced and listened, and practiced, and listened, and became an equal best musician to anyone I have ever met, by the time he and I were 17.
And we played chess! Hours and hours of it, including chess by mail with Ken's grandfather in Winnipeg! I remember having three games going, at one time, against a Basman! By high school at A.I.S.P., in Toronto, we were forced to invent Losers Chess, in order to save time for making music!
Over the years, Ken and I put together a bunch of bands. I don't remember all the names, but orignally we were known as; F**k, The Baffin Island Boogie Band, Beyond Saturns Window, Beyond, Behind, and a few more!
We played music and life together, from junior high, through high school, performing original songs, some written by me, and some by Ken, and we did covers by Stevie Wonder, Weather Report, Alice Cooper, Joni Mitchell, Spirit, Chick Corea, Edgar Winter, Wes Montgomery, the Beatles, Miles Davis, and many others! I know you're not going to like this, but, we thought Led Zeppelin were a teeny-bopper band! Go figure! My point is, we loved all great music! The word genre was poison to us!
Our many bands included friends and musicians; Daniel van Kranendonk, John Johnson, Dave Worth, Gary Boigon, Jim Honeywell, Bob Little, Cam Hawkins, Reggie Shoji, Gary Justice, and many more great musicians, who are still doing it!
Our last proper gig together was as the house-band at the original Massey family house, which became Julie Fine's, Bombay Bicycle club, in Toronto. It's now the Keg n Cleaver. I think Yousuf Karsh took some nice photos of us there. I have had one of them on my piano for many years! I'll scan it soon! I hope Ken's family have the originals, so we can all see these historical time slices properly?
Although it is true that there are more reasons for who I am than meets the eye, Ken was always my guardian angel, through some pretty brutal experiences. His ability to stay cool in outrageous situations was legendary! And having a friend who was so far ahead of me musically, and who respected my music, was the greatest gift a young music man can ever have!
I love you Ken Basman. From the bottom of my person! I will never forget you! Love is the answer!
January 16th, 2016 § Comments Off on Heredity – Rational Youth § permalink
Heredity by Rational Youth – Produced by Dee Long & Tracy Howe, with John Jones, Peter McGee, Karen Hendrix, Ben Mink & others.
Recorded and Mixed at ESP Studios, Buttonville, Ontario & AIR Studios, Oxford Street, with Matt Butler & Matt Howe.
May 26th, 2015 § Comments Off on Thanks for your support! § permalink
Thank you for your support for my Mother!
May 13th, 2015 § Comments Off on Mrs Dorothy Jones has left the choir. § permalink
OUR amazing Mum passed away in Ottawa, Canada today, due to complications from a recent hip operation and her long battle with Dementia. My brothers and sister and I were with her, at her bedside, holding her hand and stroking her brow.
All who knew Dorothy, knew that we had the best Mum ever! And now she can laugh again with our Dad, who has waited 30 years for her, and her dear sister Sylvia, and our sister Sara, and Aunt Margaret and Uncle Jack, and all of the many wonderful friends and family, who we have loved! Rest in Peace! God Bless, Mum!
May 3rd, 2015 § Comments Off on Joey Only Knows § permalink
May 3rd, 2015 § Comments Off on Flightdeck's Flying Simulators § permalink
Toys for big boys were in abundance when we recently visited Flightdeck in Newmarket.
These machines are used in conjunction with Computer Flight simulator software to train pilots and to enhance the homes of wealthly enthusiasts around the globe. I must admit, I never thought that people would want the cockpit of a 747 in their living room, but apparently they do!
The big machines are $150,000 and up, but Flightdeck also make the beautiful Jetmax, at $15,000, that I would definitely have in my house!
May 3rd, 2015 § Comments Off on In the Studio with Joey § permalink