Christoph Bull (piano, vox), John Jones (guitar, vox), Richard Martinez (drums), Benedikt Brydern (violin), Davinci (percussion)…
In honour of Tunetrack, and their continued support for me, the single NEVER, which is dedicated to Emily Richards, was officially released today.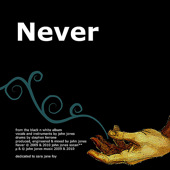 (Reload the page if Flash crashes in OS X)

It was the 1980′s something or other, and we had a little reunion on Bayview avenue in Toronto of our old 70′s band. Beyond for short.
Bob Little, Dave Worth, John Jones, Jim Honeywell, Ken Basman, and Jeff Sacks holding the circa 70′s photo we were trying to recreate!
The first single from the album 'black n white' by john jones. This music art-vid by Snowflake features original art pieces (deviantart.com) aligned with the lyrics of 'Schizoid Man' (King Crimson).
As they say in the business.
This one was written and recorded the day before Get a Dog, the version that ended up on the black n white album
It's available for your listening pleasure on my fan page at Tunetrack
Somehow my crude a cappella serenade has turned into a Ringtone for the iPhone. You can't find it on iTunes. Just on your iPhone. I wonder why it isn't everywhere?
Still, it's rude. So, if you are not over the age of consent in your jurisdiction, then please do not enjoy the ringtone here.
There is also a crude website link that will take you to a short version with words, but don't go there either if you are under the voting age in your area. The full version of Awesome is available on the black n white album, on iTunes, and most everywhere else (I hope).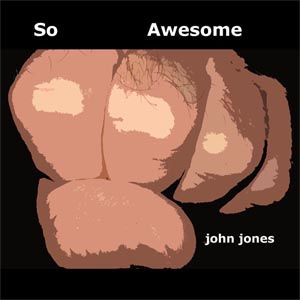 What can I say? "Call me Al".
A Johnny Mercer song…Fabtastic!
Thanks to Richard Martinez for the link!
The dancing at the end "ain't bad either!".
What a smooth planet we live on!
Here are some photos from this past Monday's JJ and Richard Birthday Show for the jjsongsalon.
The Linda Kay band, Mad Johnny, Steven Swimmer and Jimmy Leigh, Zoe Scott, Kim Crain, Zoe Scott band, Isaac, Mikal Reid, Victoria Scott, Vinnie, and the birthday boys John Jones and Richard Martinez.
I'm becoming addicted to Steak and Chips at Monsieur Marcel, where I joined Nick Wood for lunch last week. Nick came to town from Tokyo to work on songs for his upcoming solo album.
We went to Valley Glen to record three new drum tracks with Randy Cooke.